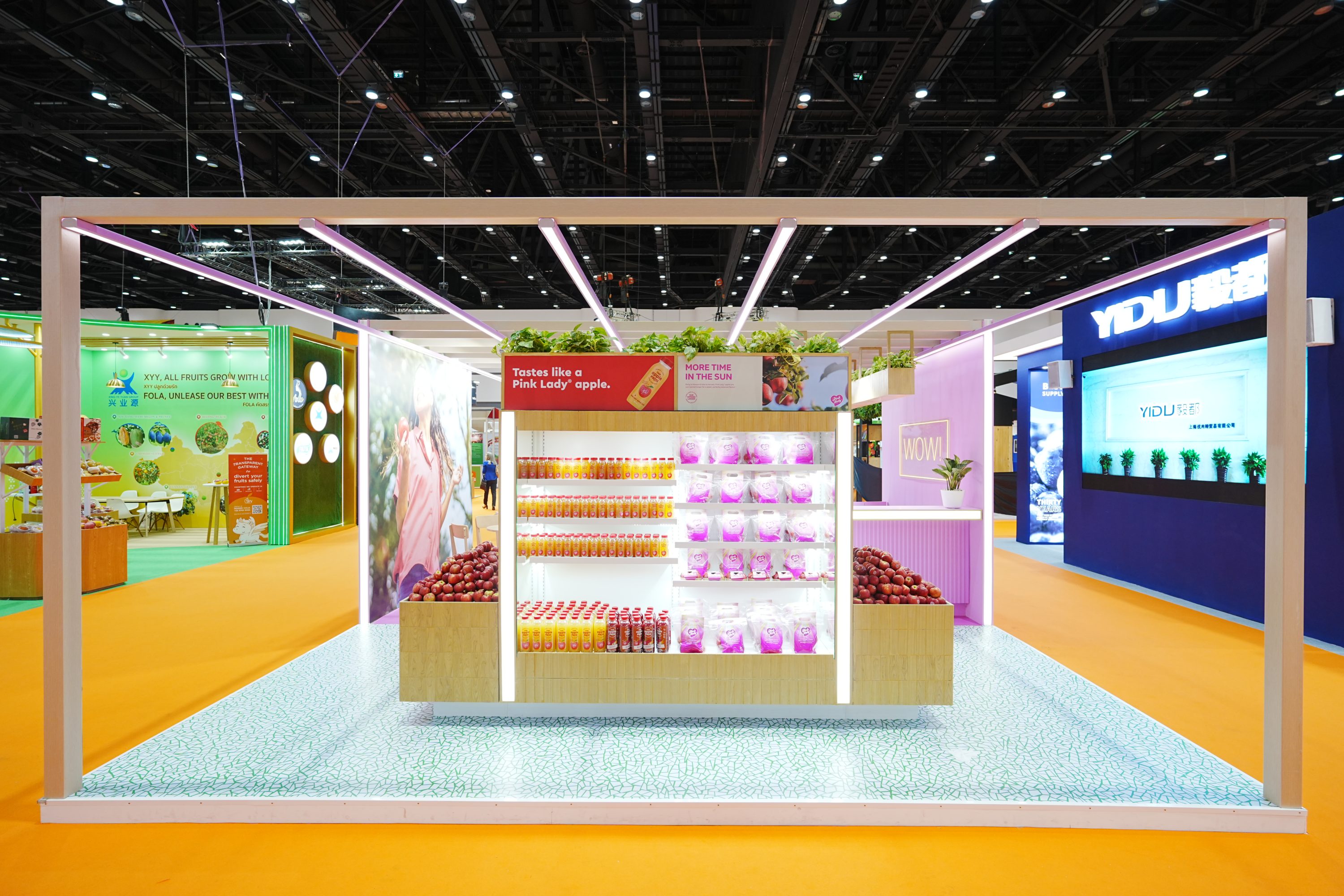 Pink Lady® is one of the best-known brands of fruit in the world and an Australian success story.
Di Marca is proud to have been an important strategic partner working with the brand for decades.
The most anticipated business and networking events for Pink Lady® are trade show presentations held each year in Asia and Europe. These events are an important time for importers, exporters, growers and retailers from around the world, to come together in-person, network, do business and discuss important developments and emerging trends. Thanks to the pandemic and restrictions on global travel the events had been forced to cancel for two years.
With restrictions and business travel resuming, Asia Fruit Logistica returned in November 2022. Held in Bangkok, it is Asia's premier fresh produce event attracting thousands of visitors from around the world.
Leading up to the event
Despite the halt of in-person events, travel restrictions and lockdowns, the pandemic years did nothing to slow Pink Lady's building momentum. The intervening years leading up to the Bangkok event were the perfect chance for the brand to focus on strategic matters that would consolidate their position as the number one apple brand in established markets and grow other fast developing markets.
The Global Brand Team undertook a review and refresh of the Pink Lady brand architecture in 2020-2021. Representing a realignment of the Pink Lady brand foundations, the initiative sought regional perspectives to acknowledge and define the distinction between the product (the Pink Lady apple) and the brand behind the product. Chair of the Pink Lady Global Brand Team, Sophie Griffith, says: "Our focus has been to envision and articulate our purpose as a global brand, looking at elements such as values, how we behave and what we stand for. We want the Pink Lady brand experience to feel the same, regardless of where in the world you are interacting with it."
Leading up to Fruit Logistica, Di Marca worked closely with the Pink Lady Global Brand Team on key projects to articulate this new direction including a brandbook, online brandhub & guidelines, new public website and a new Organic sub-brand.
The Brief
With hundreds of other trade exhibitors representing over 42 countries, Pink Lady wanted to bring the brand to life and demonstrate the exciting retail potential for premium fresh produce. The event was an opportunity to consolidate the brand's leading position and visualise the new brand architecture in physical space. Di Marca's brief was to produce a striking stand that would showcase the overall brand, highlight individual products and provide a comfortable space for people to meet.
Outcome
A lot of thinking goes into every trade stand design. The challenge is how to seamlessly integrate everything you want on the stand into a relatively small space.
Every aspect of this stand was custom designed by Di Marca in Melbourne and made locally in Thailand. Our approach first focused on the practical requirements of the stand and how it will be used within the available space: retail display area, meeting space, bar and back-of-house storage. We then focused on the finishing details: imagery and surface materials such as block colour walls, raw wood cabinets, LED lighting and overhead greenery.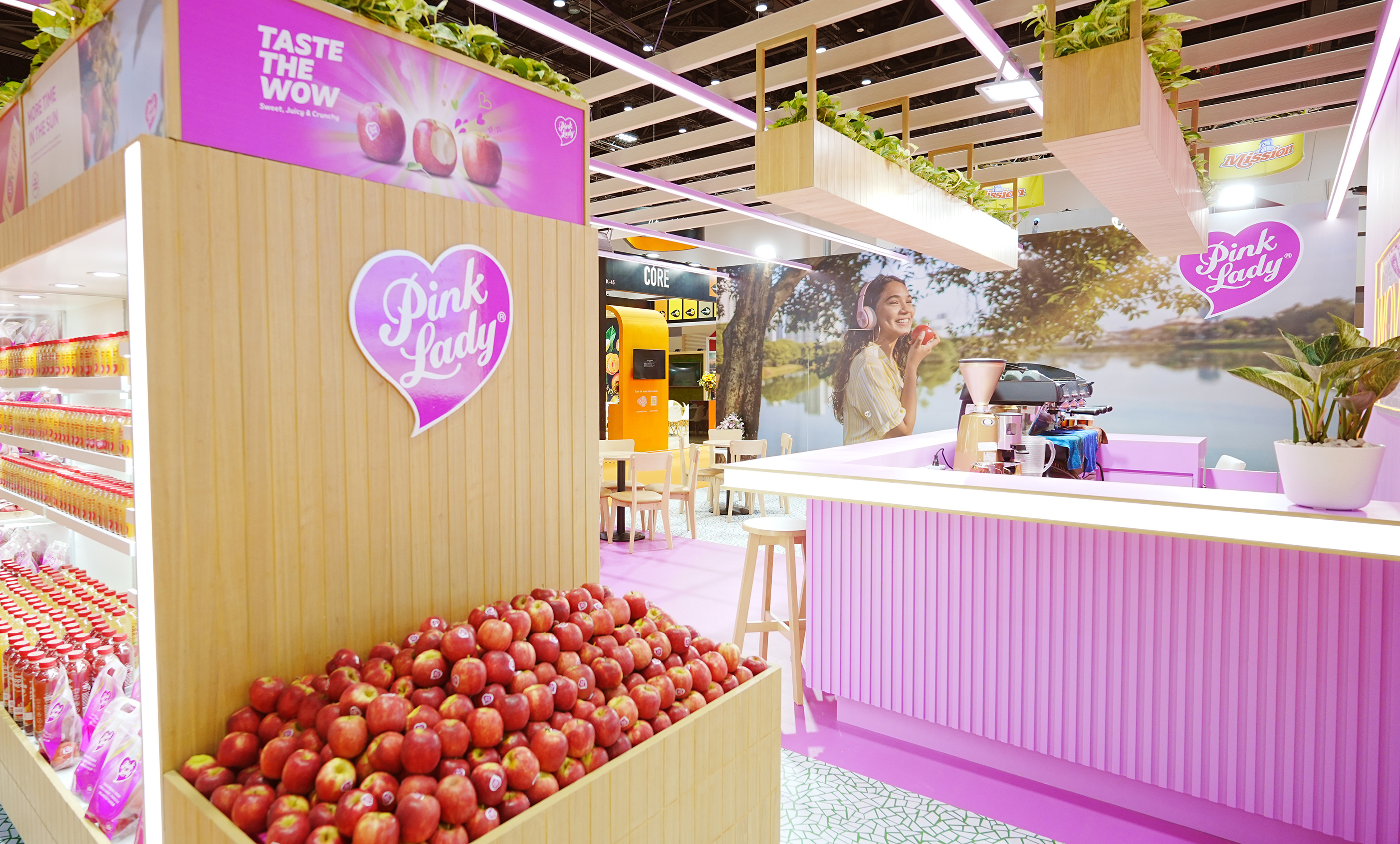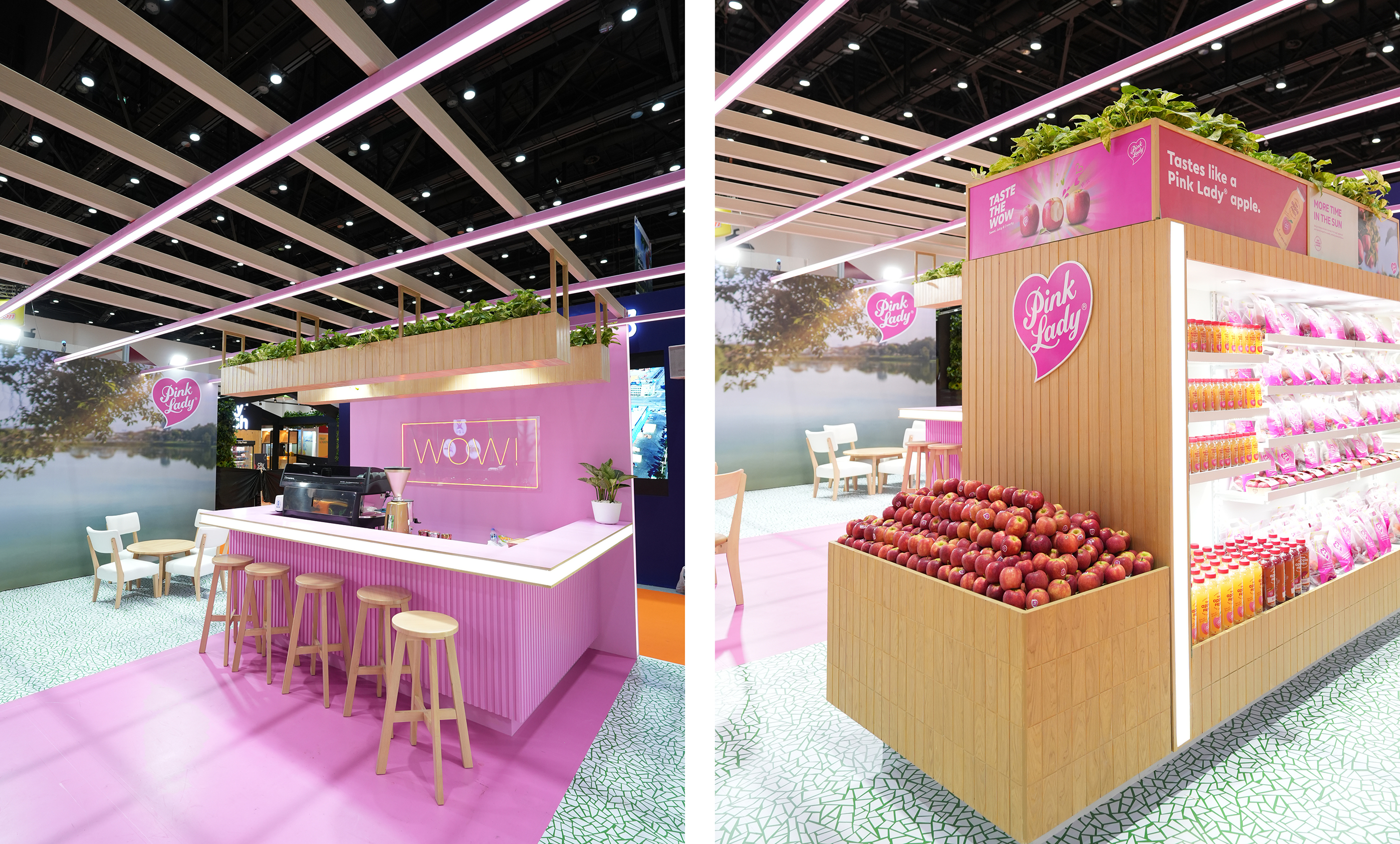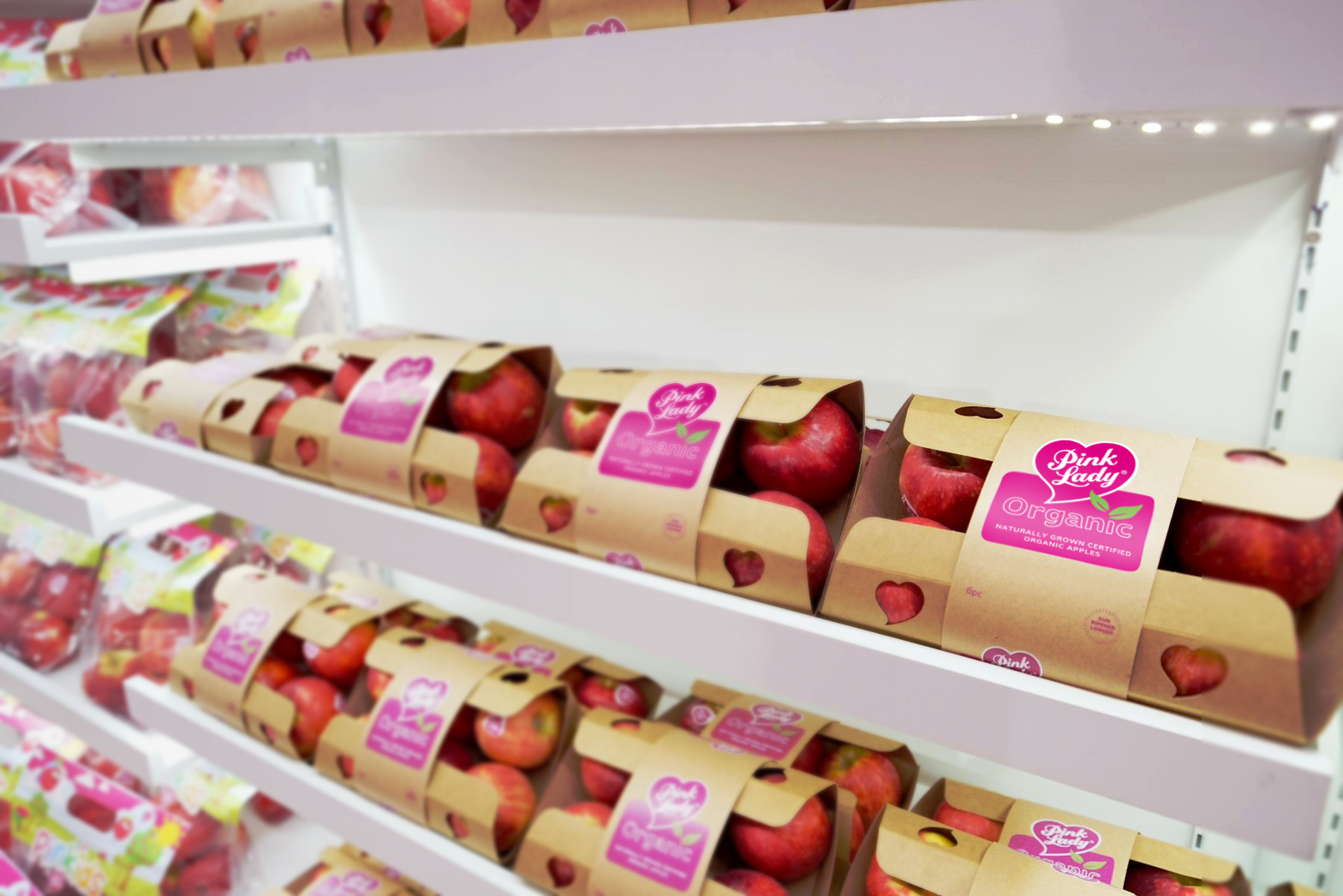 The retail element of the stand was important to demonstrate how Pink Lady performs in the real world. A custom cabinet was designed that would provide multiple display areas within a small footprint and house packaging of varying dimensions. Products displayed included PinKids®, Pink Lady® Organic, pure juice, wellness drink blends, and whole fruit in multi packs, and loose. "Today, the Pink Lady brand is home to more than one apple, and there are a wealth of product opportunities associated with that" explains Pink Lady's Craig Chester. "We wanted to highlight multiple SKUs which are clearly aligned to one unified brand but are simultaneously unique in their presentation. Each attracts a different consumer group, eating occasion, or market segment" says Craig.
In addition to housing the products on shelf, our custom retail cabinet design featured a prominent POS area at the top with space to promote individual offerings. We also designed custom packaging specifically for the show, including a raw cardboard configuration for Pink Lady Organic.
As a back drop to the whole stand, large scale brand imagery was applied to feature walls. These were commissioned specifically for the event and shot locally in the region. The images were a focul point within the stand and at an impressive 3x6m tall they were also viewable at a distance drawing people in as they passed by.
Elsewhere on the stand there was plenty of seating area, tables and meeting space. Over the course of the three-day event, Pink Lady and Master Licensees met with long-standing regional partners, key industry stakeholders and new customers building on existing relationships and forging new ones as the brand moves into new territorries.
Asia Fruit Logistica was a resounding success for Pink Lady who have asked Di Marca to start thinking about the next one to be held in Hong Kong in 2023.