I love the beginning of a New Year. It's a brave new world – a feeling that anything is possible, the horizon is bright and varied and maybe there's even a rainbow with a pot of gold at the edge of it too.
So what would you do if anything WAS possible? What's your Big Hairy Audacious Goal?  Growing your profits by 200%? Making your brand a household name? If nothing ever changes, then nothing will ever change (originally said by Thomas Jefferson), so push yourself to do something brave this year.
Rosa Parks refusing to give up her seat for a white passenger, thereby launching the Civil Rights Movement had courage by the busload. Richard Branson naming an airline Virgin? Takes a fair amount of bravery.
Let's think for a moment about all the design greats, the ones who did something truly new, which became the new norm or something we couldn't live without. Take Harry Beck's radical London Tube Map, for example. The design favoured a user-centric approach, focussing on clarity and connectivity instead of topographical accuracy. He organised the information in a rational grid allowing for more immediate interpretation and changed the face of information design forever.
Initially rejected as too radical, the design proved to be just what the public wanted following a trial. The beautifully simple design became a classic and shows how pushing yourself to go outside your comfort zone and embrace that feeling of discomfort can have enduring benefits.
Last year there were a few large brands that pushed themselves outside their comfort zone.
Lacoste
Lacoste released a range of polo shirts without their most distinctive asset – the crocodile logo. In its place was a selection of endangered animals. Produced as a limited edition range, the number of polos produced corresponded with the remaining populations of those animals in the wild. The shirts created a lot of publicity, sold out and all profits raised went directly to helping the IUCN (International Union for Conservation of Nature) fight for wildlife conservation. Very clever. And not just in a marketing sense – the wildlife wins too.
Lacoste leaves its logo to save endangered species video>
Mastercard
Mastercard made the brave move of removing the brand name from their logo. Their rationale being that the red and yellow circles are what people recognise, and it allows more flexibility on digital applications. The simplified logo shows consumers the confidence Mastercard have in the strength of their mark, and ultimately, their brand.
Raja Rajamannar, chief marketing and communication officer at Mastercard said 'Reinvention in the digital age calls for modern simplicity,' and the company 'felt ready to take this next step in our brand evolution'.
Mastercard CMO: holding duopoly to account is not about 'one advertiser jumping up and down' >
ITV
This year British Television Network ITV will hand over the creative reigns to 52 makers (graphic designers, illustrators, photographers and artists) who will each produce a reinterpreted version of their logo to be filmed and used as the station identity for a week.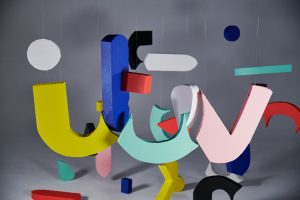 'Creative organisations can often be insular, so we wanted to open the door and look out, to make our palette richer and the adventure more exciting," We wanted it to reflect how ITV opens the door to different writers, directors and performers.' says Tony Pipes, executive creative director at ITV Creative. The astute observation by ITV is that organisations like theirs can often feel exclusive and less concerned with the community and this was a great way to connect them with their community. It shows them as more than a TV Network, but a company that is invested in better and more exciting ways to do things.
ITV lets 52 creatives mess around with its logo for new on-air look >
Do you want to make a difference, get noticed and increase the reach of your brand? It doesn't have to be as radical as removing your brand name from your logo but it may be time to try something a little more brave this year.